Delamore House
The present Delamore, the fourth house to be built on the Estate, was commissioned by Admiral Parker and built in 1859. Delamore has remained in the same family since 1688 when it was purchased from the Balmains by Sir George Treby of Plympton. It is still a traditional agricultural Dartmoor estate.
The house and gardens, not normally open to the public, were designed by St Aubyn (an established Victorian church architect) and built from Dartmoor granite. The high gabled roofs and a chapel in the house are some features of note, and there is some fine stained glass also from this era.
The gardens have some very old rhododendrons, believed to have been brought here by Sir William Parker, who was one of Nelson's Captains at Trafalgar, and later ADC to Queen Victoria.
The gardens have been altered and changed over the years but are now in the process of restoration including the Millennium Avenue with 52 lime trees and the largest cromlech on Dartmoor.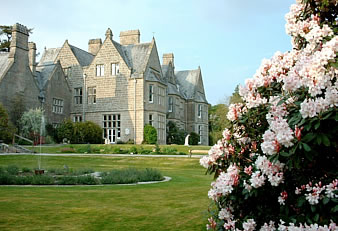 Delamore House and gardens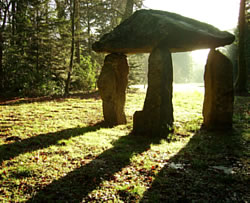 The Cromlech standing in Delamore Estate